Jooyoung Lee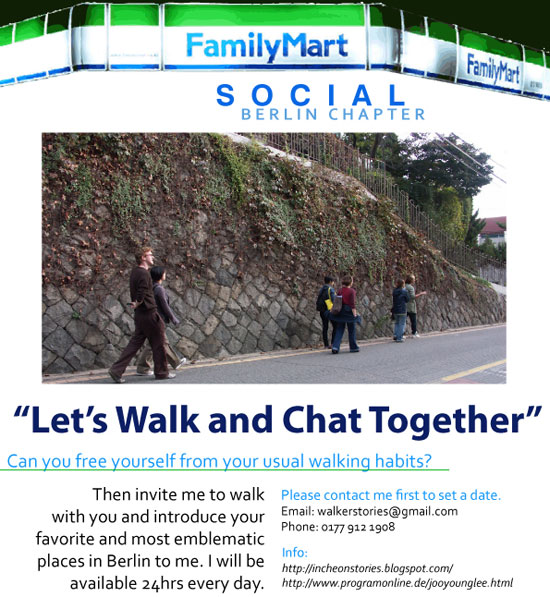 Jooyoung Lee
works across a wide variety of media, including installation, sound and video. Much of her art interacts with the public sphere, questioning the division of private and public, often by inviting collaboration. Lee explores both the notions and challenges of exchange, communication and translation through sound, text and spoken language. She works in both the gallery space and via public interventions. Her work has been exhibited at locations including the Seoul Museum of Art, the National Museum of Contemporary Arts' Studio (Seoul) and the Gertrude Contemporary Art Spaces (Melbourne), 3rd Aim International biennale (Marrakech). She lives and works in Seoul.
Summarized plan for the residency
For the PROGRAM residency I propose to develop a "City twinning" project. The experience of the recent residency program  in the city of Incheon (on the outskirts of Seoul, therefore in some respects near to where I usually reside but not the place where I live) will be developed into a blueprint or methodology that I would like to apply in Berlin to explore this notion of
City Twinning
and of distance and familiarity. As I have done with Incheon, part of this methodology will include a look at historical references in both cities that may or may not echo each other.
One thing I know about Berlin is that it used to be a divided city. One that I have never been to in the same way that I have never been to North Korea which being so close geographically represents a political and historical distance that feels impossible to overcome. This idea of a methodology that I can apply to live in an unknown city based on my experience of another city may also be developed into an idea of projecting these residency methodologies into imagining or projecting a Fantasy residency in North Korea.
For the "Fantasy residency at PROGRAM" the process would be initiated by creating a newsletter inviting local people to introduce their history about specific places. The work generated would be documented. The first task would be to create a space for meetings, talks, events and other forms of exchange to be carried out by a social network of collaborators both spontaneously and as part of a planned program.